Comprehensive Eye Exam Richmond Hill, ON
Eye care experts recommend everyone have regular complete eye exam regardless of their age or health. During a comprehensive eye exam, our eye care professional not only check your prescription to ensure you are seeing your best; we also perform various tests to evaluate the overall health of your eyes.
Patient History
In order for us to focus our examination to address your visual concerns, each patient will undergo a brief interview. We also take note of any family medical and/or eye condition history. Since many of these conditions are hereditary, this will allow us to make early diagnosis and preventive care.
Visual Acuity
This is an initial assessment of your vision, it gives us a good indication of how well you are seeing and if there are underlying eye condition we need to investigate.
Binocular and Peripheral Vision
Binocular vision test determines how well your eyes work and see together. Your side vision or peripheral vision will be tested next. Any problems detected will warrant a more in depth analyses with a computer visual field test.
Prescription
Prescription check allows us to determine the most accurate spectacle correction needed to give you the best vision possible.
Ocular Health
Checking the health of your eyes is the most important part of the exam. The inner pressure of the eye is measured to monitor for any increases which may cause irreversible damages. We examine the structures inside your eyes through a dilated pupil, looking for conditions such as glaucoma, cataracts, retinal detachment and macular degeneration.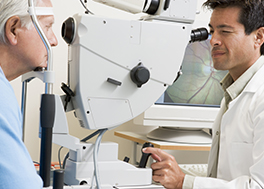 Imaging Technology
A digital image of the back of your eye will be taken using our imaging equipment. This image is used to assess for conditions such as glaucoma and allow us to monitor any changes to the retinal structure over time.
Our Optometry Services